Pinegrow Online, powerful web editor in your Browser.
Easily build and share web projects with Bootstrap, Tailwind CSS, plain HTML and GreenSock powered interactions.
Sign Up Now
View Featured Projects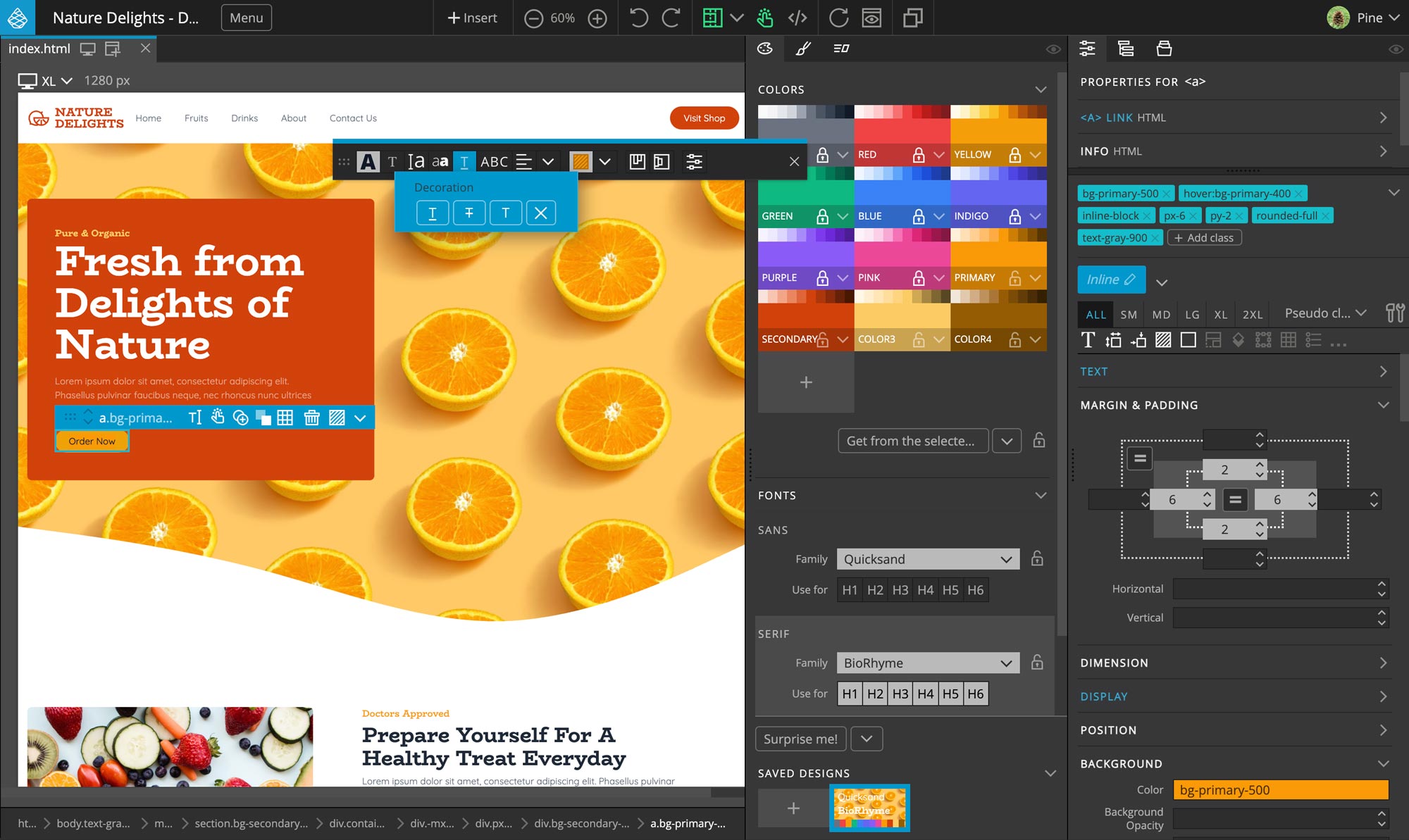 Have Fun, Build Online
Pinegrow Online comes with most of the features of our desktop application Pinegrow Web Editor.
Featured Projects
Create a new project or jump straight into editing one of our featured projects.
If you use Pinegrow Online as a guest (without an account), your projects will be saved in your browser storage.
Get on the waiting list
Pinegrow Online is currently in closed beta. The plan is to add users gradually, in batches. Sign up to the waiting list to reserve your spot.
Please note that we will not offer free accounts. Pinegrow Online will be available under an affordable subscription plan. Signing up to the waiting list will give you a chance to subscribe as soon as possible.
Frequently Asked Questions
When can I get my account?
Pinegrow Online is currently in closed beta. Please sign-up to the waiting list to get an account as soon as it is available.
How can I join the closed beta?
Get in touch with us. We are looking for users who will be able to create interesting showcase projects and help us promote Pinegrow Online.
Will there be free accounts?
No, at least not for now. We have to focus on making the service sustainable and providing support to paid users. That said, Pinegrow Online can be used for free as a guest, without an account.
Where are my projects stored when using Pinegrow Online as a guest?
Your projects are stored in the browser local storage. That means you can't open them from another device or preview them in the browser. After getting an account, you will be able to import such projects.
Are there any limitations for guest projects?
Yes. Projects with Interactions can't be downloaded when you are using the service as a guest.
Is Pinegrow Online included in my desktop Pinegrow Web Editor subscription?
No, Pinegrow Online is a separate service. We will offer special combo deals to our current users.
What will happen with desktop Pinegrow Web Editor app? Will Online replace it?
No worries :) Desktop Pinegrow remains our core product.
Can I host my websites on Pinegrow Online, with my custom domain?
We are still figuring out the best way to do that, either directly or through integration with one or more hosting providers.
How about pricing?
We are still designing subscription plans. Our goal is to make Pinegrow Online affordable and to scale prices of various plans in proportion to the value they will provide to you.
Which browsers are supported?
Chrome & similar, Firefox and Safari.
How about the WordPress support?
The plan is to have Pinegrow Online also available as a self-hosted WordPress plugin.